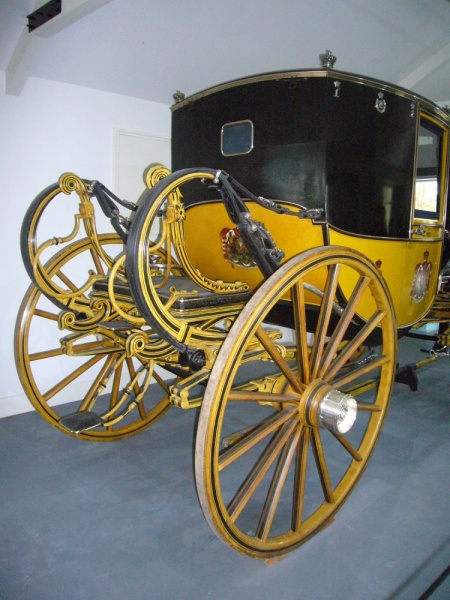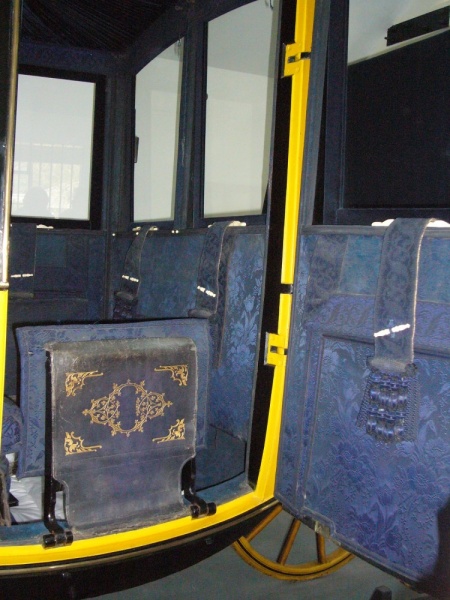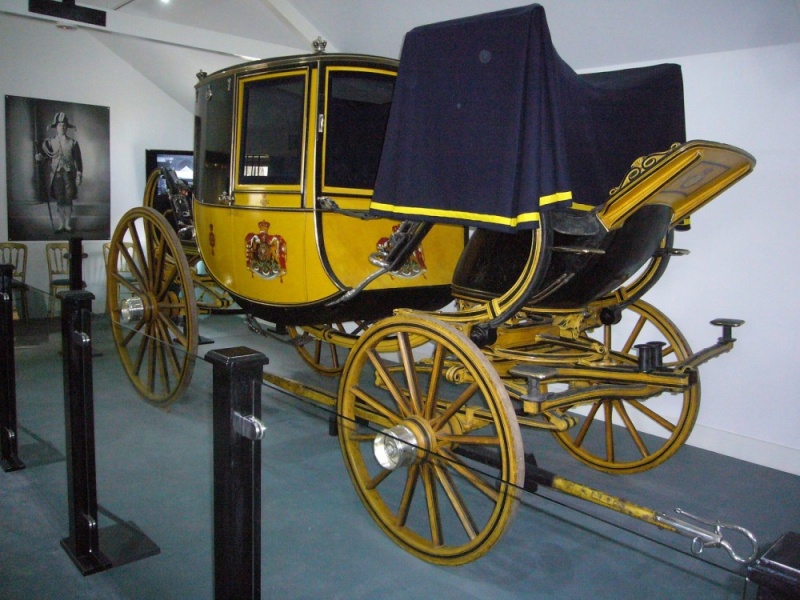 Use the dots above to scroll through images.
Listed in 1 collection
Listed at 1 museum
Listed for 1 maker
Quick Details
Carriage Type
Town Chariot
Date of Production
circa 1840
Accession or Inventory Number
NT 1221399
Materials used
Paint, Wood, Iron, Leather, Wool Box Cloth, Bone, Silver, Brass, Silk
Summary of Town Chariot
The Londonderry Chariot is a typical Chariot sprung on C and under springs with a hammer cloth seat on a Salisbury boot. This Chariot has a footman's cushion and hind standards. There is a coachman's communication cord in the pillar between the front windows. Built by Hooper and Co of London.
This Chariot would have been used on state occasions and was driven by a coachman in full livery with powdered wig, tricorn hat, braided livery coat, white plush breeches, white silk stockings and silver-buckled shoes. Two footmen, similarly dressed, except that they wore bicorn or cocked hats, stood on the "footmen's cushion", the padded platform behind the body, steadying themselves with the "footmen's holders". They carried silver-topped staves, known as wands, which were earlier used to keep the crowds away from the carriage. They were expected to stand motionless and bolt upright.
Dimensions
Height: 7ft 6 1/2"
Length: 13ft 5"
Width: 6ft 2"
Front wheel diameter: 3ft 3 1/2"
Rear wheel diameter: 4ft 5 1/2"
Full description
This Chariot has a standard shaped body seating two people inside with a Salisbury boot, sprung on C and under springs. It is a high status carriage with silver plated external furniture. The doors are hung on two concealed hinges and have skeleton figure of eight handles with bolts controlled by an internal wing handle. A dragon is on the boss of the handles surmounted by a Viscounts coronet. Double folding steps are fitted to the bottom of the door frames and rectangular leather covered treads are on the outer roller bolts with similar steps on sides of the Salisbury boot. At the back are square upper and lower leather covered steps for the footmen to mount the leather covered platform. In each door is a lowering window with blue velvet covering on the frames and in the front of the body of the carriage are two lowering front windows also with velvet covering. A rectangular back light window is in the back panel.
This Chariot has elaborate lamps. Cylindrical in shape, they have heavily decorated covers, three tiered chimneys and cut glass bowls. Silver plated beading on the body of the carriage, coronets on the roof, brace buckles, axle caps and serpent head dumb irons signify the high status of this carriage. The wheels are 12 and 14 spoke English pattern with flat iron tyres on collinge axles compassed down. The Chariot has a close futchell fore carriage and a splinter bar that is compassed down beneath the futchells . A plated wood perch is compassed to match the underside of the body.
The roof, upper panels, body frame, underside of floor are painted black with the lower panels, wheels and carriage painted yellow with broad black lining. A coat of arms is on the doors, front and back lower panels consisting of a garter star surrounded by garter, surmounted by Marquess coronet. There are three crests and a motto surmounted by a Viscounts coronet on mid front panel, fence rail panel and beneath the footboard.
Sadly the original hammer cloth is missing, a modern wool cloth cover sits in its place. Leather covers the coachman's cushion and hessian covers the coachman's seat. Inside the roof lining is in dark blue. Silk taffeta cushions, back rests, side and back squabs are present and original. The front and door lining is of a ribbed silk damask in a floral and foliage pattern. A blue cut pile carpet covers the floor. Broad laces are in dark blue worsted with a foliage pattern on a blue ribbed silk ground, the minor laces match. Spring curtains match the roof covering and there are elaborate tassels on the glass strings. The internal furniture is made of bone.
Inscriptions
On the axle caps: HOOPER & Co
On the panel blinds: HOOPER & Co VICTORIA ST LONDON SW
Access information
This Chariot is in the care of the National Trust at Mount Stewart.
Mount Stewart
Portaferry Road,
Newtownards,
County Down,
BT22 2AD
Picture credit
Amy Bracey