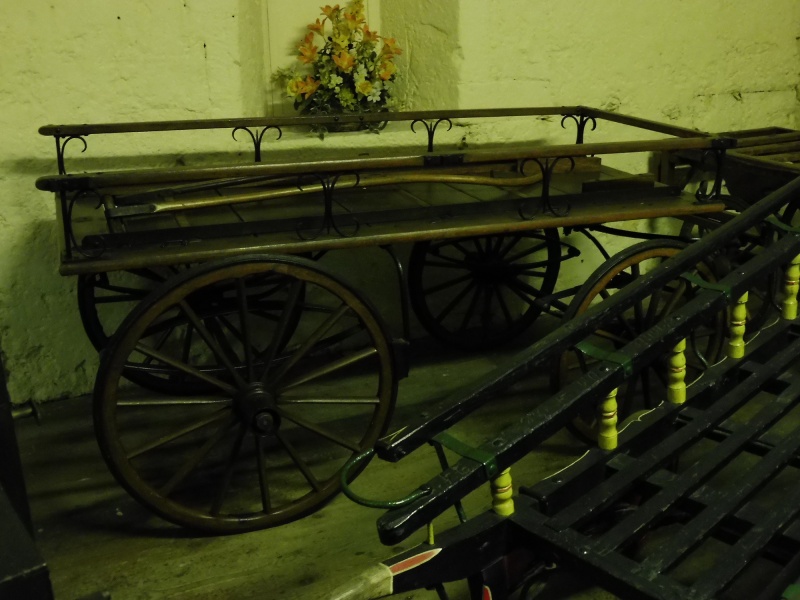 Listed in 1 collection
Listed at 1 museum
Listed for 1 maker
Quick Details
Carriage Type
Bier
Date of Production
1905
Accession or Inventory Number
1989.219
Materials used
Paint, Wood, Iron, Brass
Summary of Bier
A nicely built Funeral Bier that was used by the Cranbrook Burial Board. It was made by the Piper family who started as coachbuilders in Cranbrook in 1874.
Many Biers were made to be pushed by villagers, this example was designed to be drawn by a pony or donkey as detachable shafts can be fitted.
Full description
An simple, elegant and well built bier by T Piper and Sons with a flat wood bed. Around the edge of the bed is a wooden rail supported on curved iron supports, four on each side. The flat bed is sprung with elliptic springs on straight axles.
The wheels are 12 and 14 spoke Warner pattern on collinge patent axles, they have rubber tyres and a brake is fitted to the rear wheels. A pair of shafts are with this bier, of varnished wood and fine in their profile.
This is a well built Bier of varnished wood with a black painted undercarriage. On the bed of the Bier are two wooden rollers allowing a coffin to be easily pushed onto the Bier and wood and metal stops to hold it in place.
Inscriptions
On the axle caps: T PIPER & SONS
Condition report
In very good order with little wear.
Access information
This Funeral Bier is in the care of the Tyrwhitt-Drake Carriage Museum
Maidstone Museum and Art Gallery
St Faith's Street,
Maidstone
ME14 1LH
Picture credit
Maidstone Museum and Bentliff Art Gallery / Amy Bracey / Robert Lovell