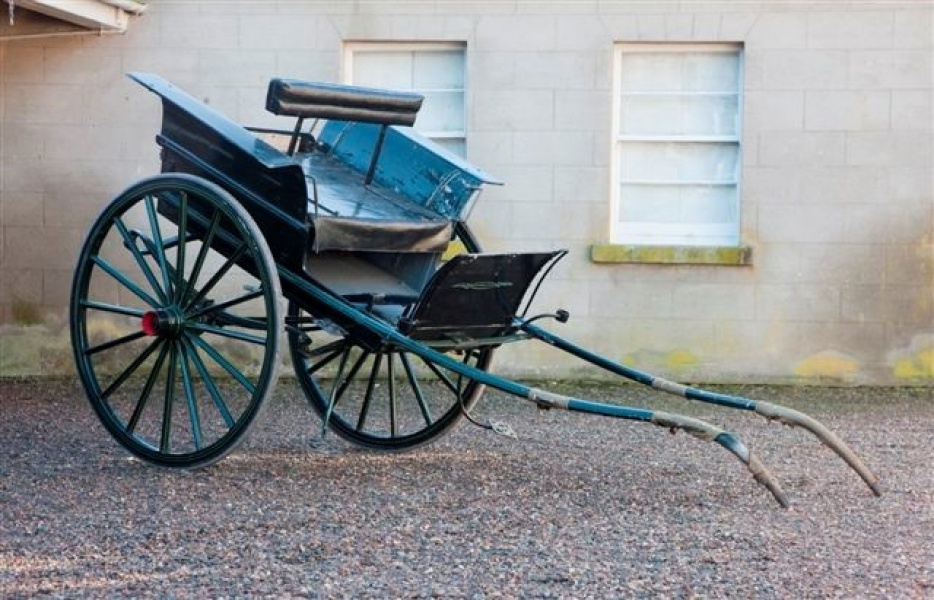 Listed in 1 collection
Listed at 1 museum
Listed for 1 maker
Quick Details
Carriage Type
Canterbury Cart
Date of Production
cIrca 1900
Accession or Inventory Number
NT 565725
Materials used
Paint, Wood, Iron, Leather, Brass, Rubber
Summary of Canterbury Cart
A Canterbury Cart for a single horse with curved side panels and sprung on two cross and two side springs. Painted in dark green with light green lining. Built by Mullins and Sons of Cork.
Canterbury Carts are a sporting carriage that very often get mislabelled as a Ralli Car. The defining feature of a Canterbury Cart is that the shafts run outside of the body of the carriage. They often have back to back seats allowing four people to ride in the carriage and there is a space under the seat for storage.
Dimensions
Height: 5ft 3 3/4"
Length: 11ft 1/4"
Width: 5ft 2 1/2"
Wheel diameter: 3ft 11"
Full description
Canterbury Carts have a simple box body with curved upper panels and horizontal wings above the wheels, this carriage is a good example of its type. At the front is a curved wood dashboard. At the back is a top hinged board inside the tailboard which lowers on leather served chains to form a footboard for backwards facing passengers. The driving seat slides forwards and backwards for balance and there is an adjustable footrest in the footwell. Double steps are on both sides at the front on step irons bolted to the sides of the body. A single step is on the nearside behind, all steps have flower shaped decorative stamped treads. Lamp irons are mounted the front of body by the dashboard and look a little odd in this position. Usually they would be fixed to the side panels.
This Canterbury Cart has 16 spoke warner wheels with wired on rubber tyres on the 'Improved' mail axles and sprung on two side and two cross springs all with a double curvature except from the front cross spring. The side springs are clipped to the axle. The shafts are mounted on the shaft spring at the front and on solid mounts behind. They have adjustable tug stops, one pair of breeching staples and shaft hooks screwed to shafts.
The paintwork on this carriage consists of the body, wheels and carriage dark green with pale green lines. The dashboard and the wings are painted black with the underside of the floor and inside the floor in grey. Red paint has been used on the inside of the axle caps. The double sided seat back is covered in a black leather cloth. A modern and incorrect carpet is nailed to the tailboard and there is a plastic seat fall.
Inscriptions
On the axle caps: MULLINS & SONS . CORK
Picture Credit
Chrisopher Nicholson