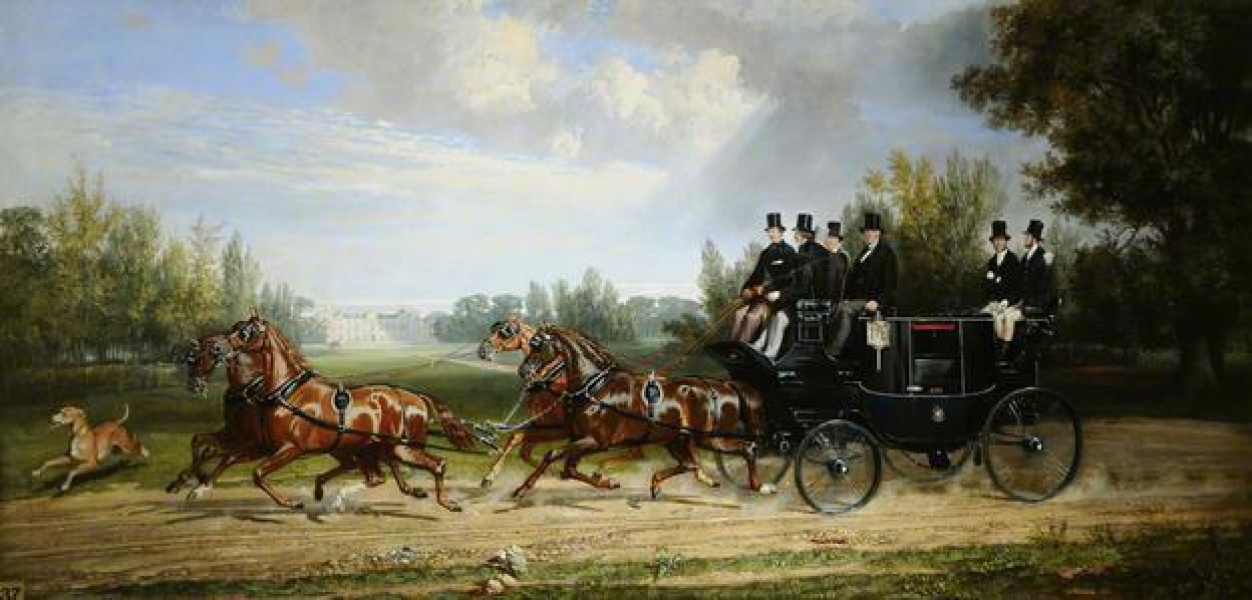 Listed in 1 collection
Listed at 1 museum
Listed for 1 maker
Quick Details
Date of Production
1857
Materials used
Paint, Canvas
Summary of The Crack Team
A fine looking team of chestnut horses known as 'The Crack Team' are put to a Park Drag and travel along a road which passes in front of Burton Constable Hall in Yorkshire. Oil on canvas, painted by Joseph Walker in 1857.
Full description
This painting shows a classic gentleman's equipage from the mid 19th century. An impressive well matched team of chestnut horses are put to a Park Drag. The harness carries the crests of the family (Chichester's of Burton Constable Hall). A large lurcher type dog runs along in front of the horses clearing the road ahead. Two liveried grooms sit on the back of the coach and there are three gentleman guests at the front.
The coach moves at a fast pace through a landscape of trees. In the distance is a view of Burton Constable Hall.
Artists profile
Joseph Walker (1831-1906) painted a number of pictures featuring horses and carriages with the occasional hunting scene. He depicts his subjects with great accuracy and seemed to have a talent for painting portraits as well.
Access information
This painting is in the care of Burton Constable Hall
Burton Constable Foundation
Burton Constable,
Skirlaugh
East Yorkshire
HU11 4LN
Tel: 01964 562400

Picture credit
Burton Constable Hall