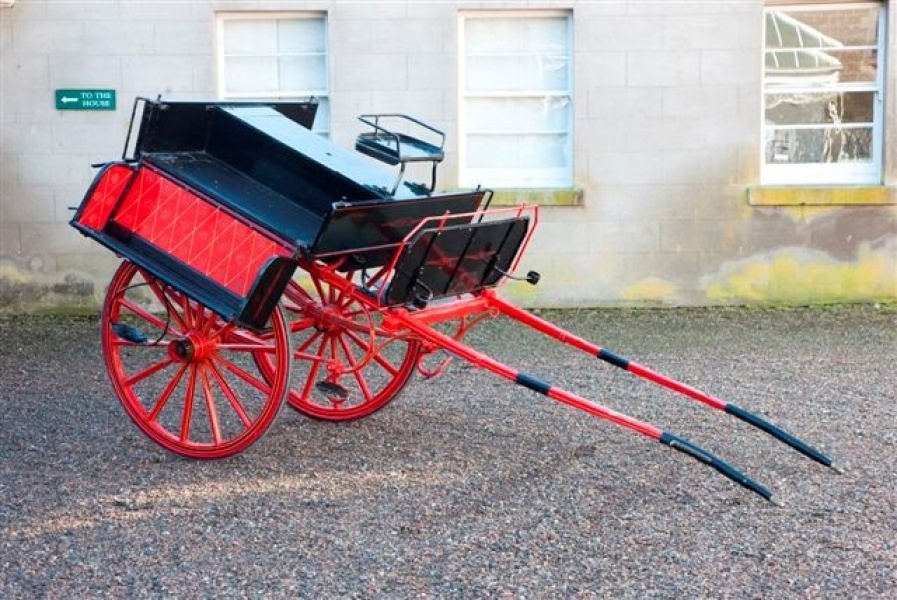 Listed in 1 collection
Listed at 1 museum
Listed for 1 maker
Quick Details
Carriage Type
Jaunting Car
Date of Production
early 20th century
Accession or Inventory Number
NT 565727
Materials used
Paint, Wood, Iron, Leather
Summary of Jaunting Car
This is a characteristic jaunting car with a luggage locker between the seat boards and a removable driver's seat with a footboard on iron stays. Built by J Browne of Dublin.
With its origins in Ireland the Jaunting Car was a popular mode of transport that seated on average four people on back to back seats that ran lengthways with the footboards hanging over the wheels. The drivers seat was perched in between the passenger seats and quite high. They were pulled by a single horse and were often painted in bright colours and decorated.
Full description
A characteristic jaunting car with the typical luggage locker between the seat boards. The driver's seat is removable with a footboard on iron stays and has a leather seat valence. There are oval footrests to either side of the dashboard to enable the driver to mount the carriage. Oval jagged plate steps are fitted on the foot rests and there are step treads on shafts. Lamp brackets are fitted on the dashboard frame.
The Jaunting Car has 14 spoke Warner wheels with rubber tyres in clincher channels on collinge axles. Deep branched side springs are mounted on deep scroll irons on the front and similar scroll irons are behind with a stay at the end. The shafts are on span irons to the underside of the seat boards with a heavy splinter bar clipped to them. Fixed tug stops and one pair of breeching staples are on the shafts and there are trace hooks on splinter bar.
The body, footrests and the dashboard are painted black with red lining. The body panels are black with a dark green central section. On the interior of the footrests red with yellow trellis and green flowers are painted. Wheels and carriage painted in red with a broad black line and two fine yellow lines.
Inscriptions
On the axle caps: J.BROWNE, BRUNSWICK ST, DUBLIN
Access information
This Jaunting Car is currently in the care of The National Trust at The Argory.
The Argory
144 Derrycaw Road,
Moy,
Dungannon,
County Armagh,
BT71 6NA
Picture credit
The National Trust Christopher Nicholson