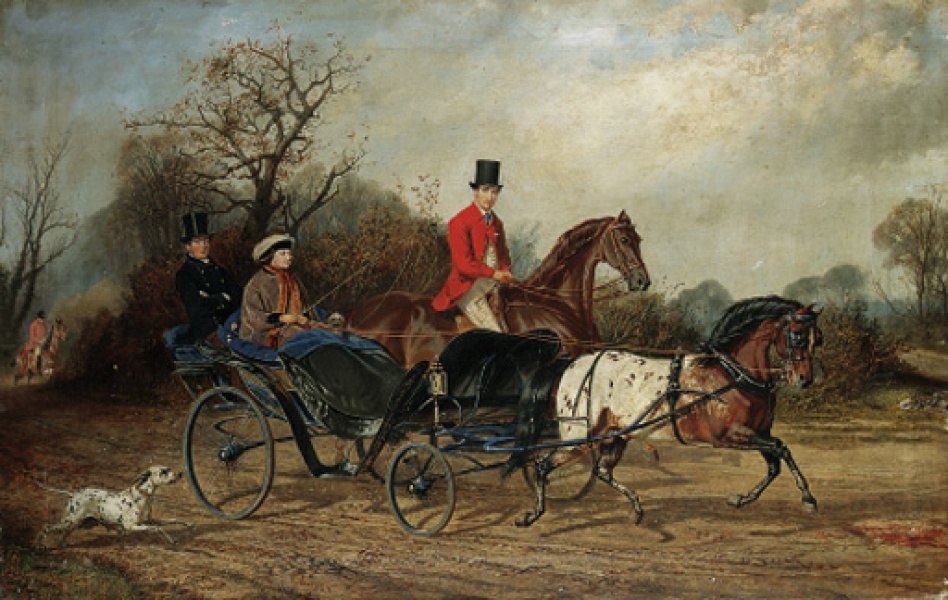 Listed in 1 collection
Listed at 1 museum
Listed for 1 maker
Quick Details
Materials used
Paint, Wood, Canvas
Summary of Lady Clifford-Constable Driving a Carriage
An oil on canvas painting of Lady Clifford-Constable driving a pony phaeton with her husband Sir Talbot on horseback behind. Painted by Joseph Walker (1831-1906).
Full description
Lady Clifford-Constable is driving a smart roan spotted pony to a Pony Park Phaeton. She is dressed for autumnal weather in an ermine lined cape and has a cloth lined leather apron across her lap. A groom in full livery sits on the back seat and a Dalmatian dog runs alongside. Behind Lady Clifford-Constable is her husband Sir Talbot, riding a liver chestnut horse. He is dressed in hunting attire and in the background to the left of the painting is another huntsman, making this painting a hunting scene.
Artist profile
Joseph Walker (1831-1906) painted a number of pictures featuring horses and carriages with the occasional hunting scene. He depicts horses, carriages and harness with great accuracy and seemed to have a talent for painting portraits as well.
Access information
This painting is in a private collection.
Picture credit
Private collection