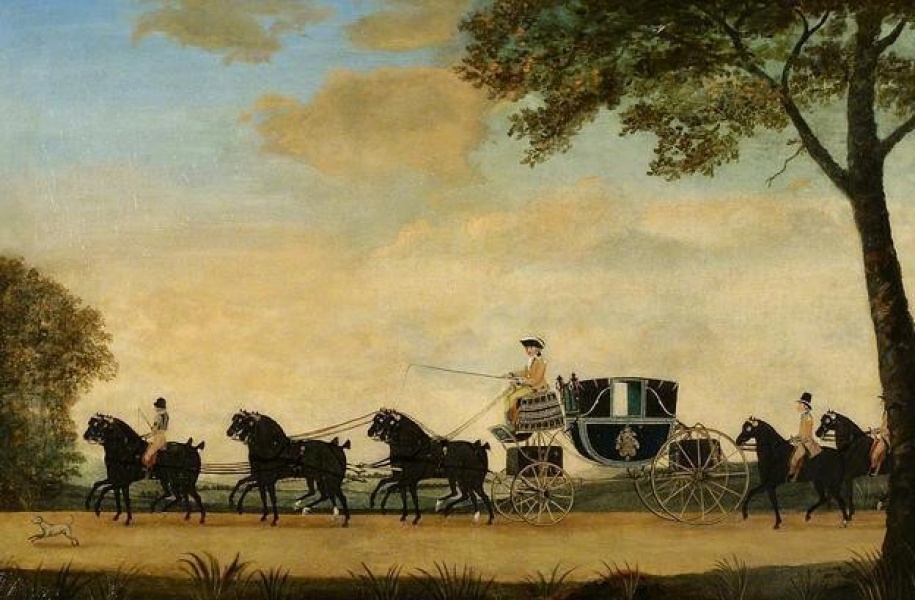 Listed in 1 collection
Listed at 1 museum
Listed for 1 maker
Quick Details
Date of Production
1792
Materials used
Paint, Wood, Canvas
Summary of The Marquess of Queensberry's Coach
Oil on canvas painting of The Marquess of Queensberry's Coach painted by John Cordrey in 1792.
Full description
The coach is pulled by a team of six black horses, four being driven by a coachman and the two leaders being ridden by a postilion rider. There are also two outriders behind the coach. The coachman and outriders wear gold livery coats and the postilion wear a blue coat (short for postilions) with gold braiding. The hammer cloth on the coachman's box seat appears to be black and silver but it may have originally been blue and gold to match the liveries. The horses wear breast collar harness and have cropped ears and tails. The coach is sprung on C springs and has boots at the front and back. It is painted dark blue/black and carries the crest of the Marquess on the door panels. Silver plated sham irons and mounts are fitted to the upper body panels, there are a pair of lamps mounted to the front of the body of the coach.
Cordrey always painted his horses moving from right to left and in step with one another. The landscapes behind feature a large blue sky, a large tree to the right and a small tree to the left. There is nearly always a mile stone to the left and a dog running along side. This painting does not have a milestone but it does have a little white dog.
Artist profile
John Cordrey was an illusive artist. Exact birth and death dates are unknown and there is no record of where he actually lived. From his paintings one can surmise that he lived somewhere near London.
Access information
This painting is in the care of the British Sporting Art Trust
National Horseracing Museum
99 High Street
Newmarket
Suffolk
CB8 8JH
Picture credit
The British Sporting Art Trust