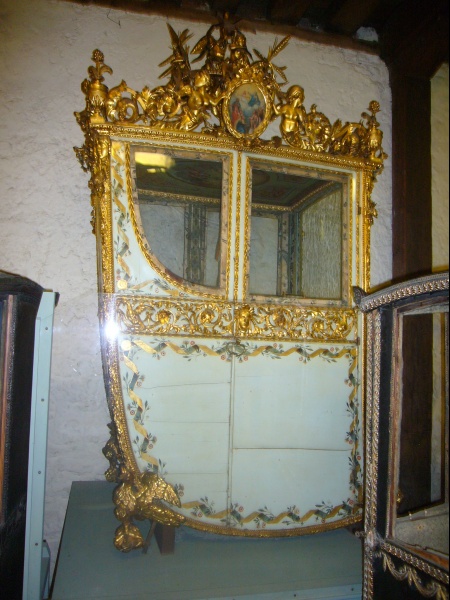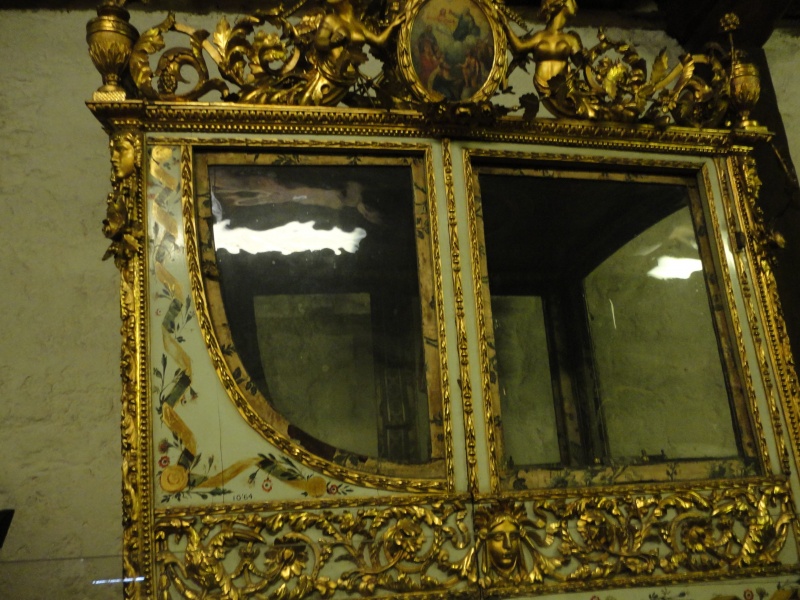 Use the dots above to scroll through images.
Listed in 1 collection
Listed at 2 museums
Listed for 1 maker
Summary of Sedan Chair
Being of a large size this Sedan Chair would have required more than two chairmen to carry it. It was certainly a status symbol and was used on special occasions such as for the baptisms for the Grand-Ducal family of Tuscany.
Being heavily embellished with ormolu and having painted panels with biblical scenes, it is a work of art rather than a practical mode of transport.
Dimensions
Height: 8ft 3 ½"
Length: 3ft 11 ½"
Width: 3ft 2"
Full description
This Sedan Chair displays Italian design and craftsmanship of the early 18th century at its best. It is a large example, of the standard shape but heavily embellished with gilt ormolu. This Sedan was used at the baptisms for the Grand-Ducal family of Tuscany
The side, front and back panels are painted in a beautiful pale blue. They have a border design of twisted gold ribbon, pink flowers and green foliage and gold roundels. Around the centre of the Sedan Chair is an ormolu border of scrolling acanthus leaves with passion flowers, birds and female masks
With most Sedan Chairs access is through a door at the front. As this is a much larger example, there are doors in the sides hung on butt hinges and opened with a cast loop handle. The windows have a border of stylised leaves which seems quite refined in comparison to the rest of the decoration. The frame of the windows are covered in a material with a floral pattern. They lower into the panels to the front panel and the doors.
Around the roof edge is an elaborate pediment. At each corner is a vase with stylised flowers. Scrolls of acanthus leaves and vine leaves seem to grow wildly around the two semi naked female figures who support a roundel with a painted scene of the Holy Trinity. In the centre of the roof is an very elaborate corona of leaves and flowers made in carved wood and metal.
The interior is upholstered in floral pattern brocaded silk and has cream colour broadlace. On the ceiling is an oval panel painted with doves and angels holding a cross. Each corner on the Chair has a gilt carved edge with a leaf motif. These edges finish at the top with a more heavily carved arrangement of flowers surmounted by a female mask. Where the Chair curves under at the back, two very fine gilt carved eagles act as supportive feet, preventing the chair from falling backwards when stationary.
Inscriptions
There are no inscriptions.
Condition report
There are obvious cracks in the panels. The ormolu mounts seem in good order but are most likely to be fragile. A challenging item to keep clean!
Access information
This Sedan Chair is owned by the V&A Museum and in the care of the Tyrwhitt-Drake Carriage Museum
Maidstone Museum and Art Gallery
St Faith's Street,
Maidstone
ME14 1LH
Picture credit
Maidstone Museum and Bentliff Art Gallery / Amy Bracey / Robert Lovell