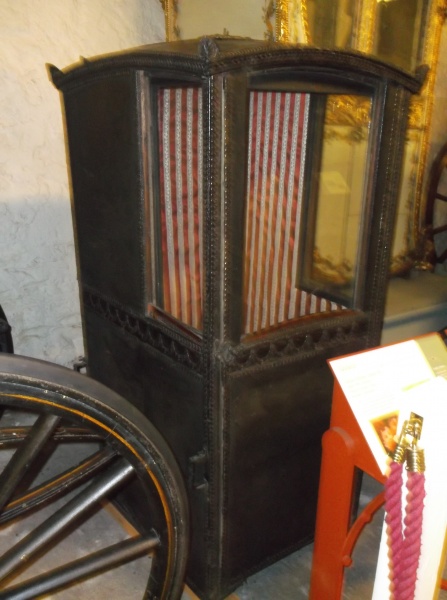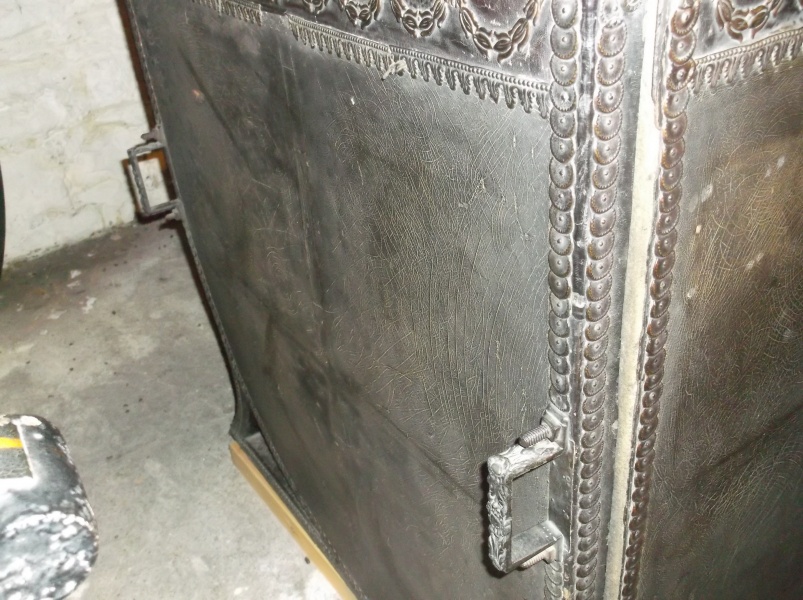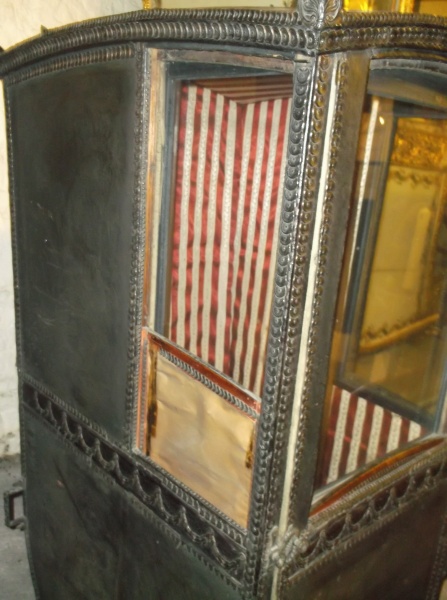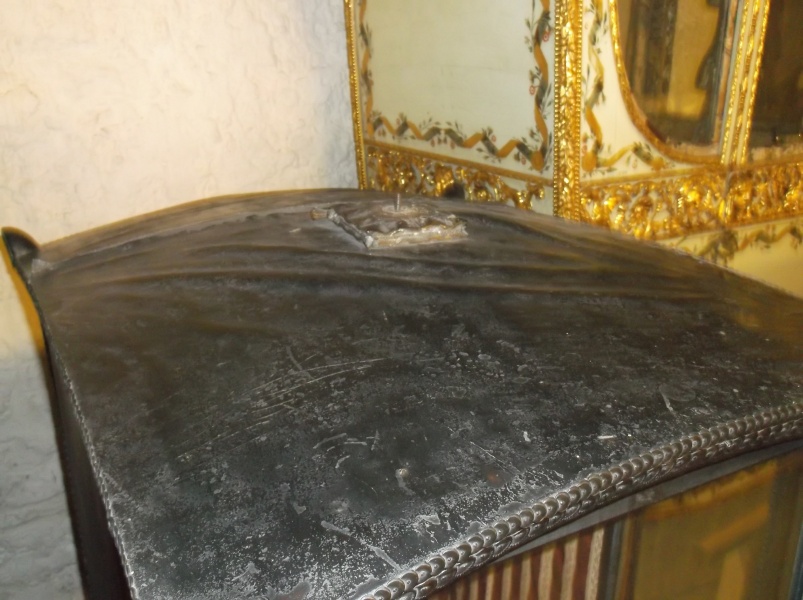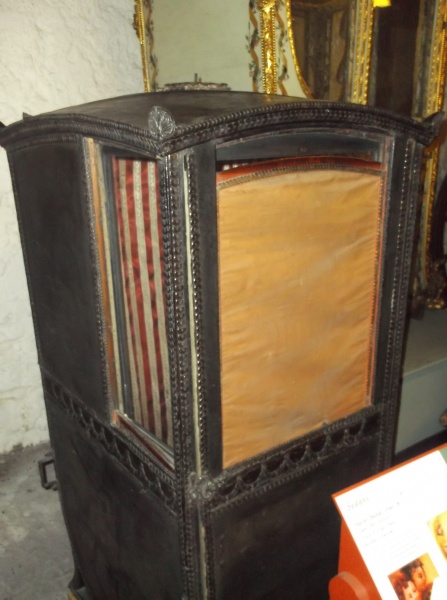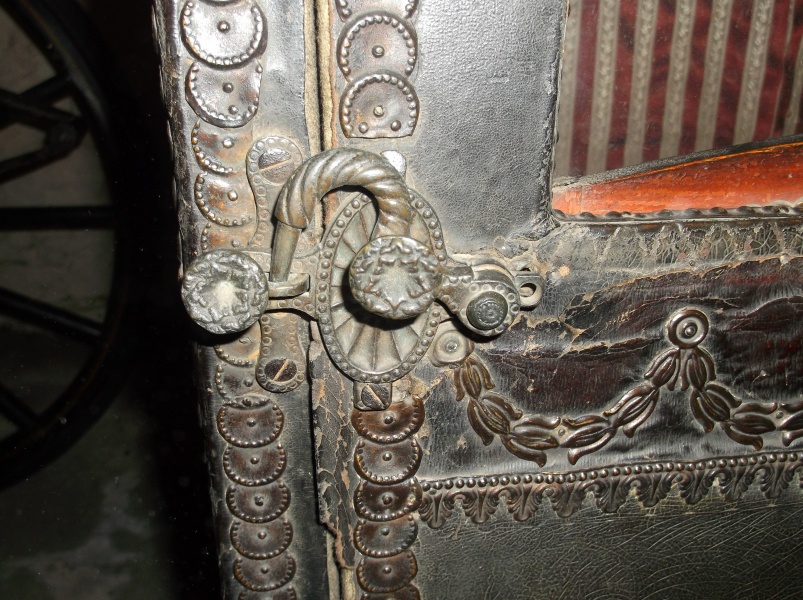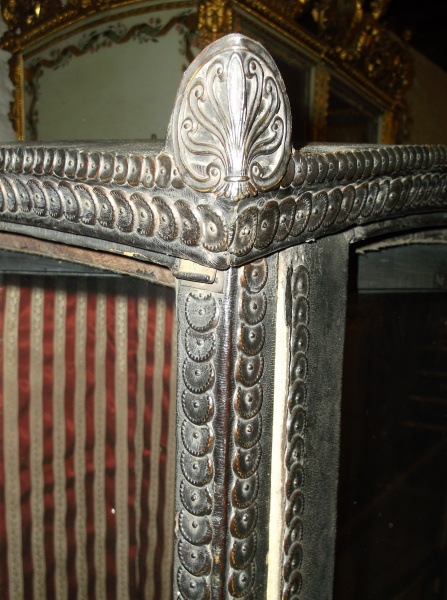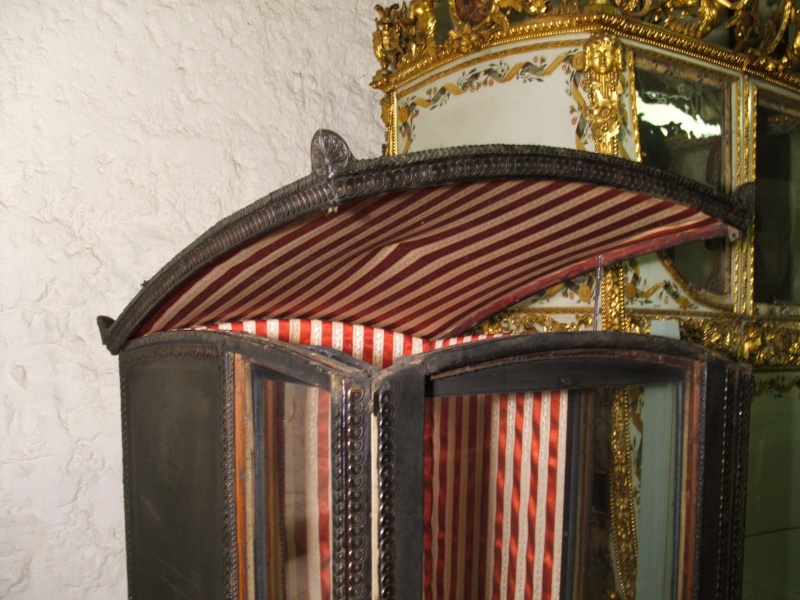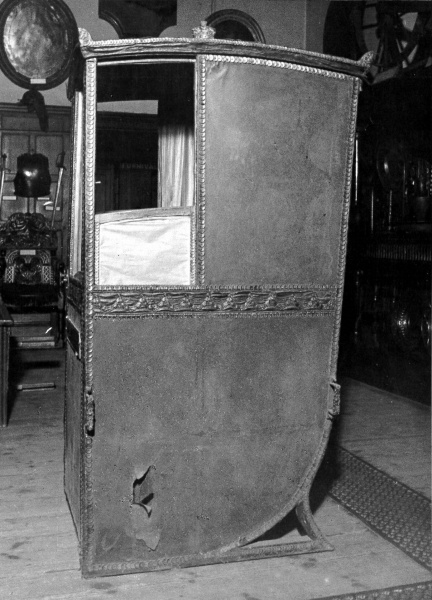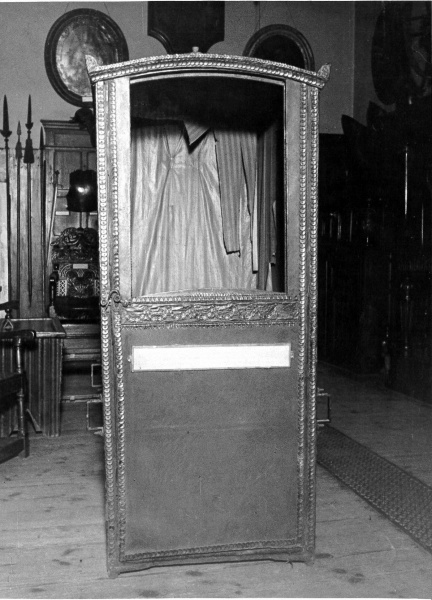 Use the dots above to scroll through images.
Listed in 1 collection
Listed at 1 museum
Listed for 1 maker
Summary of Sedan Chair
A Westminster arch-roof sedan chair dating from around 1760 with highly polished and japanned black leather panels over a deal frame. This chair is similar to several others that survive from the period of the Napoleonic Wars. It alludes to an exalted taste beyond that of a plain private Westminster sedan, by virtue of its additional ornamentation.
They were used for private transportation, carried by two chairmen, for getting around short distances in town and also for transport around the interior of large country houses.
This Sedan Chair is believed to have belonged to the Montague family.
Full description
This is one of two examples of the Westminster style Sedan Chair in the Tyrwhitt-Drake museum. This example has the standard deal frame covered with japanned leather. The panels are bordered with an unusual metal edging of discs overlapping one another. The centre and edges of the discs are studded. Around the centre of the Sedan Chair is am applied leather border with a stylised foliate swags and roundels at each point where the swags meet. Under this border is a stylised border of acanthus leaves and a row of little studs above.
Around the top edge is the same overlapping disc border and at each corner a finial. In the centre of the roof is the base for a central finial which is now missing. The roof lifts up to enable the occupant to enter the chair without bending over. This was an important features as high wigs were most fashionable when this chair was built and they were of such a height that an upright posture was required all of the time.
At the front is a door mounted on concealed hinges. It has a very elaborate catch consisting of a latch arrangement with a hook that secures it shut. The windows lower into the panels, they have wood frames and buff colour fabric blinds. Inside the Chair is covered with a modern red and white stripe silk fabric.
A gilt embellished panel on rear is surmounted by a crown. Within the panel are the letters 'MN'.
Cast iron staples are fitted to accommodate the poles (missing?).
Inscriptions
On the rear panel : MN
Condition report
Sedan Chairs tend to survive in better condition than carriages as they were not quite so heavily used. This chair has signs of age and the back panel is damaged. All of the border work is in good condition although the applied leather border has disintergrated a little on the front.
The interior is modern but, at least in pattern, replicates what was there. Old photographs show an interior in tatters. Sedan Chairs upholstered in red were for use by gentlemen as were green upholstered ones. Ladies had light coloured upholstery.
Access information
This Sedan Chair is in the care of the Tyrwhitt-Drake Carriage Museum
Maidstone Museum and Art Gallery
St Faith's Street,
Maidstone
ME14 1LH
Picture credit
Maidstone Museum and Bentliff Art Gallery / Samantha Harris