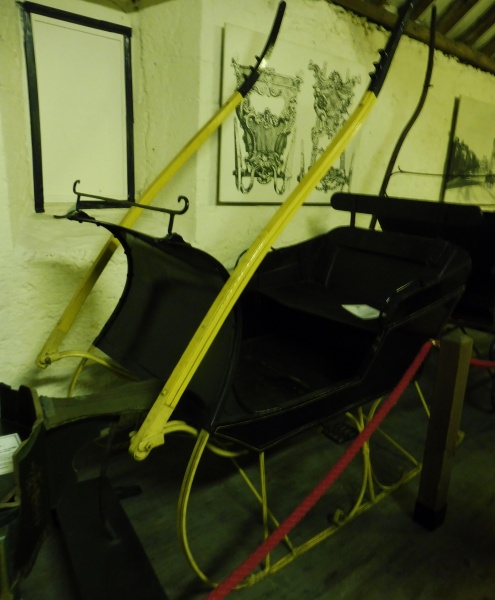 Listed in 1 collection
Listed at 1 museum
Listed for 1 maker
Quick Details
Carriage Type
Sleigh
Date of Production
1890
Accession or Inventory Number
1964.162
Materials used
Paint, Wood, Iron
Summary of Sleigh
The use of Sleighs did not really catch on in England due to the country not having prolonged periods of snow. Some gentry had them for taking rides around their estates and this is the type of plain Sleigh that one might expect to find on a country estate.
This Sleigh was built for a Thomas Franklin of Stevenage n 1890.
Full description
A Sleigh of fairly basic construction built for use around country estates when there was enough snow to justify it use. This Sleigh was pulled by a single horse. The dash board has an accentuated curve to it, designed to catch any snow thrown up by the horses feet. It is surmounted by an iron rein rail. The body of the Sleigh seats two people side by side. A rectangular, skeletal, jagged step is fitted to each side to access the Sleigh. Two iron grab handles are fitted to the front corners of the side panels. The are no embellishments, it is a functional vehicle.
The body is mounted on the underside to two iron runners via very simple supporting brackets attached at seven points along each runner. Two longitudinal bars add further support to the body and have attachments for the independent shafts.
This Sleigh has been repainted at some point in black with yellow under carriage, shafts and lining. It has lost all of its upholstery.
It is a classic example of the type of Sleigh used for getting around estates or travelling distances on the continent.
Condition report
Structurally the Sleigh appears sound. It has been repainted to a rather poor standard and all of the upholstery is missing.
Access information
This Sleigh is in the care of the Tyrwhitt-Drake Carriage Museum
Maidstone Museum and Art Gallery
St Faith's Street,
Maidstone
ME14 1LH
Picture credit
Maidstone Museum and Bentliff Art Gallery / Amy Bracey / Robert Lovell