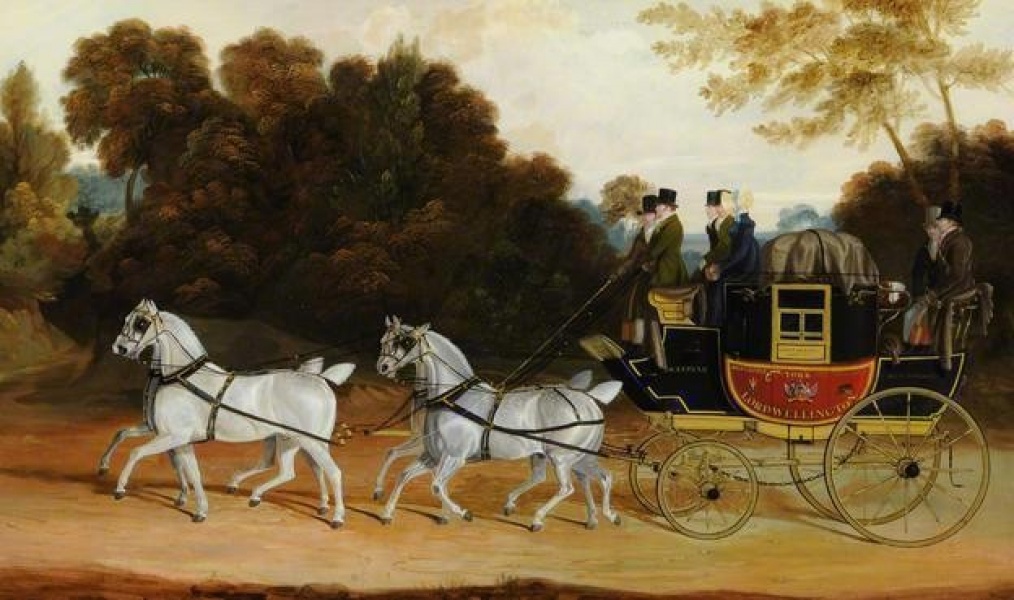 Listed in 1 collection
Listed at 1 museum
Listed for 1 maker
Quick Details
Date of Production
circa 1818
Materials used
Paint, Wood, Canvas
Summary of The Wellington Coach the Newcastle-York-London Mail Coach
Oil on canvas painting of the Wellington Coach which ran from Newcastle via York to London. After John Cordrey circa 1818.
Full description
The Newcastle to London Mail Coach travels at speed along a road in front of a wooded landscape. The coach is pulled by a team of grey horses and is loaded with passengers and luggage, it has front and back boots to stow the mail and a storage box in the floor of the coach. The artist has observed the blunderbus box on the back of the coach and the chain for the drag shoe is clearly and accurately painted.This painting has been attributed by John Cordrey and whilst the coach is very similar to his style of painting, the horses, passengers and landscape are not really true to the artists work. Cordrey has a very recognisable style and this painting does not entirely fit within it.
Artist profile
Unknown artist after John Cordrey
Access information
This painting is in the care of the Ferens Art Gallery.