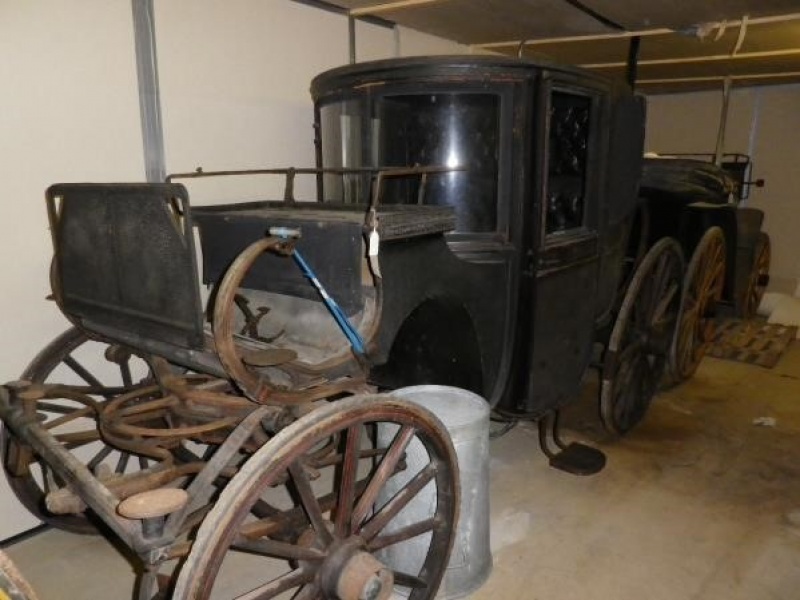 Listed in 1 collection
Listed at 1 museum
Listed for 1 maker
Quick Details
Date of Production
1880
Accession or Inventory Number
2008.2410 and 132/36
Materials used
Paint, Wood, Iron, Leather, Wool Box Cloth, Bone, Brass
Summary of Bow-fronted Double Brougham
This is a high quality brougham by a top London coachbuilder. Broughams are not an uncommon carriage but examples of this high specification are not so often seen. The crest on the doors is that of an Earl which, with the coachbuilder, would explain the high quality of this carriage.
The Brougham was named after Lord Brougham, who designed the prototype of this closed carriage in 1838. This example, built by Peters and Sons, London was an ideal town carriage.
In 1810 Obadiah Elliot registered a patent for his idea of mounting four-wheeled carriages on elliptic springs, instead of the large, heavy and expensive perch undercarriages previously used, and this new principle was adopted for all relatively small four-wheeled carriages. Though much cheaper and very practical, this new development was not as comfortable, and certainly not as stylish. In 1840 the first brougham was built that was mounted on a wrought iron perch with C springs and under springs. This had the added advantage of showing that the owner could afford this much more expensive style and extra comfort.
Dimensions
Height: 6ft 2"
Length: 11ft 7"
Width: 5ft 5"
Front Wheel diameter: 3ft
Rear Wheel diameter: 3ft 8"
Full description
Built by a prominent coachbuilder, Peters of London, this example of a Double Brougham has a bow fronted body with a sunk footboard between brackets. The coachman's seat has single seat rails and is leather served, the seat valance is in blue wool cloth. The roof and upper panels are covered in leather and there is a leather dashboard. The doors are on concealed hinges and slightly protrude from the body of the carriage, they have T bar handles. Platform steps are mounted on each side with iron covers mounted onto the base of the doors. Two curved panels at the front of the body of the carriage form the bow front with the frames covered with blue wool cloth. In each door are sliding window panels with frames also covered with blue wool cloth. There are no lamp brackets fitted to this carriage which is unusual as they were a carriage that would have been driven at night time.
The wheels are 12 and 14 spoke English pattern with rubber tyres on collinge patent axles. The Brougham is 'Eight Spring' being on C and under springs and has an open futchell forecarriage with a curved horn bar. The hindcarriage has a straight axle bed. At the coachman's footboard is a foot operated brake.
The carriage has paintwork consisting of a blue body with red lining. The wheels are painted blue with red triple lining. An Earls coronet on each door panel.
Inside the upholstery is of black buttoned leather with blue laces with a foliate pattern and ivory furniture.
Inscriptions
On the axle caps: PETERS OF LONDON
Condition report
This carriage needs considerable conservation cleaning. It is in original condition retaining some of its leatherwork, paintwork and interior upholstery. The carriage needs new leather braces as a matter of urgency to support the weight of the body of the carriage sufficiently to reduce the risk of it collapsing onto the undercarriage.
Access information
This Bow-fronted Double Brougham is in the care of York Castle Museum.
York Museums Trust
St Mary's Lodge
Marygate
York
North Yorkshire
YO30 7DR
United Kingdom

Tel: 01904 687687
Picture credit
York Castle Museum.