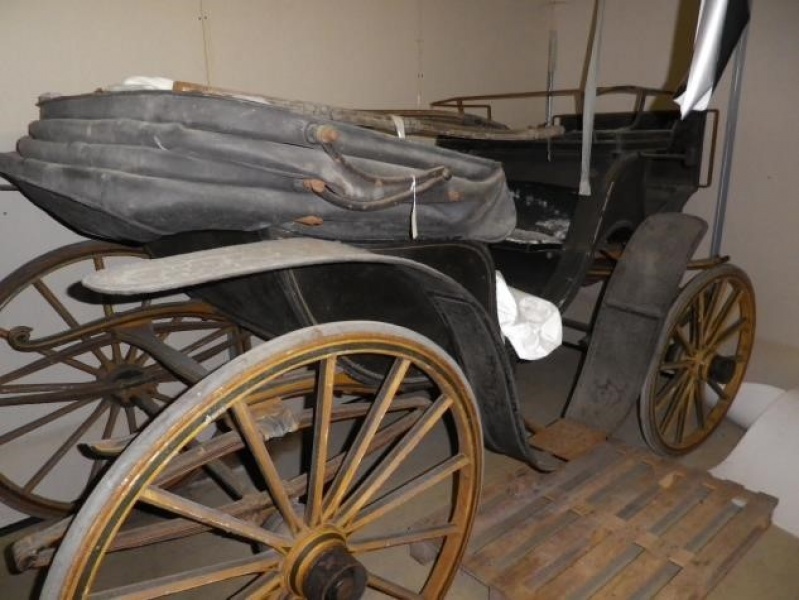 Listed in 1 collection
Listed at 1 museum
Listed for 1 maker
Quick Details
Carriage Type
Panel Boot Victoria
Date of Production
circa 1900
Accession or Inventory Number
2008.2411
Materials used
Paint, Wood, Iron, Leather, Wool Box Cloth
Summary of Panel Boot Victoria
A superb Victoria built by one of the top London coachbuilders Barker and Co. It doesn't get much better this this in terms of quality. This example has a body with a curved profile and is sprung on elliptic springs. There is a fold down seat in the boot under the coachman's seat which gives the carriage its name of 'Panel Boot Victoria'.
Victoria's were introduced by the future King Edward VII from Paris and were made popular by the patronage of Queen Victoria who favoured this carriage style. Victoria's are open carriages with a leather hood to give some protection to the occupants against the sun. They were driven by a coachman with a footman sitting next to him. The low comfortable body carries two, or occasionally three if it has a folding seat stowed in the back of the boot. The low access, elegant style and comfortable seating made the Victoria very popular with ladies for fine weather use.
Dimensions
Height: 5ft (hood down)
Length: 10ft 5"
Width: 5ft 3"
Front Wheel diameter: 3ft
Rear Wheel diameter: 3ft 7"
Full description
A Panel boot Victoria with a body has a curved profile. There is a fold down seat in the boot under the coachman's seat. Leather wings extend from the top of the front wheel, downwards to a platform step. They then extend upwards and finish just past the back panel. The coachman's seat has single rails. This carriage has a leather head lined with green wool cloth and a leather dashboard. Lamp brackets are fitted to on each side of the coachman's seat, there are no lamps.
The wheels are 12 and 14 spoke English pattern wheels and rubber shod on collinge patent axles. A wrought iron perch reflects line of shape of the underside of body with an open futchell fore carriage and is sprung on elliptic springs. The carriage has independent shafts.
The body of the Panel Boot Victoria is black. The wheels are in yellow with black lining. An 'E' above a hand on a shield is painted on both side panels. The seats are upholstered in buttoned brown leather.
Inscriptions
On the axle caps: BARKER'S & Co CHANDOS ST
Condition report
This super Victoria needs conservation cleaning and the mould growing on the upholstery needs tackling. It looks sound otherwise.
Access information
This Panel Boot Victoria is in the care of York Castle Museum.
York Museums Trust
St Mary's Lodge
Marygate
York
North Yorkshire
YO30 7DR
United Kingdom

Tel: 01904 687687
http://www.yorkcastlemuseum.org.uk/
Picture credit
York Castle Museum