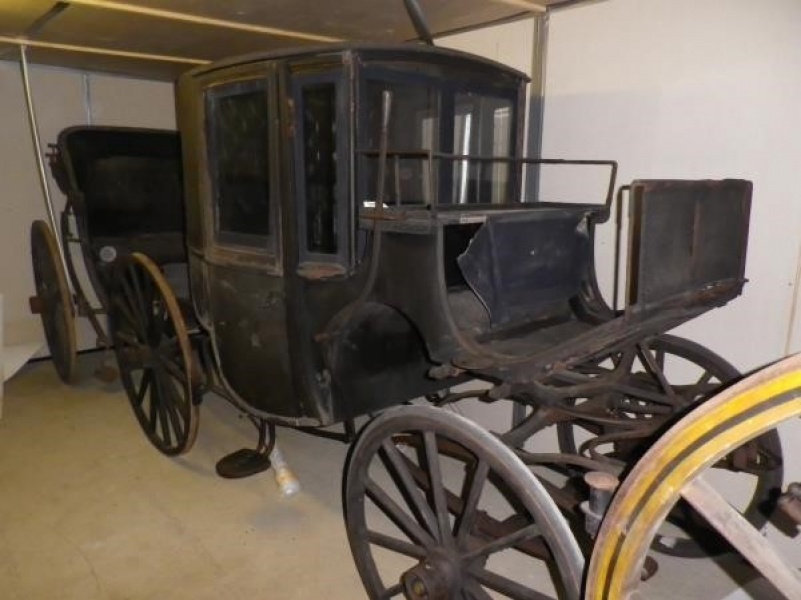 Listed in 1 collection
Listed at 1 museum
Listed for 1 maker
Quick Details
Carriage Type
Brougham
Date of Production
circa 1890
Accession or Inventory Number
1936.131
Materials used
Paint, Wood, Iron, Leather, Wool Box Cloth, Bone, Brass, Silk, Rubber
Summary of Double Brougham
This Double Brougham has a standard angular appearance but has slightly more unusual ¾ elliptic springs. Painted in blue and upholstered in black buttoned leather. Made by Palmer of Dover.
The first brougham was commissioned in 1837 by Henry Peter Brougham (1778-1868). He wanted "a refined and glorified street cab, which would make a convenient carriage for a gentleman", unlike his usual form of transport, probably a town coach or chariot, both far larger and heavier. He designed a carriage that would be light and compact, needing just one horse and a coachman – ideal for use on busy streets. The body would be low for easy access and should carry two people and be "closed and intimate thus allowing the occupants to conduct a private conversation whilst travelling". His ideas were rejected by his usual coachbuilder so he took them to another, Robinson & Cook. They agreed to build the vehicle and it was called the Brougham by his Lordship's express permission. Lord Brougham's brainchild was an instant success and, within a few years, broughams were being built in vast numbers wherever carriages of Western European style were used. They were particularly popular with professional and middle class families, and became the everyday carriages of the wealthy and the aristocracy.
Dimensions
Height: 6ft 4"
Length: 10ft 6"
Width: 5ft 2"
Front wheel diameter:
Rear wheel diameter: 3ft 7"
Full description
An example of a Double Brougham with a standard angular profile with sunken footboard between moulded brackets, the roof and upper panels are covered in leather. The carriage has an open futchell forecarriage on an iron perch and sprung with elliptic springs. The coachmans's seat has rails and a blue wool cloth valance. Each door has a sliding window and T bar handle with the covers for the iron steps to mount the inside of the carriage attached. At the front of the carriage are two rectangular windows and two further windows, one on each side forming a glass front. All of the window frames are covered with blue wool cloth.
The wheels are 12 and 14 spoke English pattern and were once rubber shod, the rubber is now missing, on collinge patent axles. A lever brake is fitted.
Due to the paintwork having deteriorated it is difficult to decipher the original colour as the brougham appears to be black on the body and undercarriage. It may have originally been dark blue. There are two heraldic digits on each door. The interior has black buttoned leather upholstery with blue broadlace and ivory furniture.
Inscriptions
On the axle caps: PALMER DOVER
Condition report
This brougham needs its wheels assessing and the rubber replacing. The coachman's seat valance needs conserving and the interior and paintwork given a thorough clean.
Access information
This Double Brougham is in the care of York Castle Museum.
York Museums Trust
St Mary's Lodge
Marygate
York
North Yorkshire
YO30 7DR
United Kingdom

Tel: 01904 687687
Picture credit
York Castle Museum